Fresh off a loooong holiday weekend….and feeling no different than before it began!  😀  Thursday the 4th was our Independence Day, which is also the unofficial start of giant motor homes driven by idiots who have never driven anything bigger than a Prius clogging up the roads for the next two months.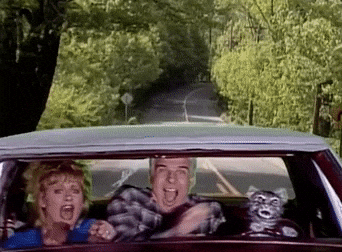 And yes, I'm getting crankier in my old age, ha!!
We stayed at home, far from the crowds, and enjoyed a quiet weekend.  A neighbor set off a few fireworks for the 4th, and we also watched the Seattle fireworks show on tv.  Ah, life in the middle of nowhere!
I've read some great books the past couple of weeks, check them out—-
Mongrels by Stephen Graham Jones — 4 out of 5 stars!
The most unique werewolf story ever!!  Well, at least the most unique one that I've ever read!!  I would say this is part coming-of-age and part horror.  I'll admit it started a bit slow for me, but damn, I didn't want to put it down!  If you like horror be sure to check this one out.
The Hate U Give by Angie Thomas — 4 out of 5 stars!
I think this should be a must-read for everyone.  While I didn't think the ending did justice to the rest of the story (a little too convenient and too fairytale happy ending), I found this to be a powerful and compelling read.  Highly recommend.
Sudden Sea by R. A. Scotti — 4 out of 5 stars!
Full review coming soon!
Rust and Stardust by T. Greenwood — 4 out of 5 stars!
We are probably all familiar with Nabokov's infamous Lolita, but few know about the true kidnapping behind the story.  Greenwood takes the story of Sally Horner, the real kidnapping and rape victim, and creates a novel that not only dramatizes her story but imagines the points of views from family, friends, and neighbors.  Greenwood does treat the rapes and physical abuse with kid gloves, and I think it would have added more bite to the story if she had included a few chapters from criminal Frank LaSalles POV, but overall a really good read.
My Grandmother Asked Me to Tell You She's Sorry by Fredrik Backman — 3 out of 5 stars
I was spoiled by reading Backman's A Man Called Ove first since it set a high standard that, sadly, his other books just haven't measured up to in my opinion.  This one had some good, some bad, and a lot of just plain confusing and/or boring (the confusing, boring parts came with the whole fantasy land created by the grandmother.  Yes, I understood it's significance but after a while it started to grate on my nerves).
My Sister's Bones by Cathi Hanauer — 2.5 out of 5 stars
This isn't really a story about anorexia, more a story about a girl going through her teenage years who happens to have a sister with anorexia.  Maybe if I had read this when it came out in 1996 I would have liked it more (this would have been edgy back then).  There were a few bits that stood out but overall I found it to be boring and almost glorifying in it's approach to anorexia.
Retribution by Richard Anderson — ??? stars???
I'm still deciding on this one, I will be posting a review shortly.  A huge thanks to Scribe Publications for sending me a copy!
_____________
And another week begins!  I know my son and I will be heading to another of the local library's summer programs, and I have several library books checked out that I have to get a move on!  So until next week, Happy Reading!!