Yes, it's that time of year…..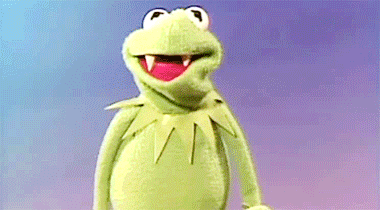 …when even cute little frogs become bloodthirsty vampires!  😀
Welcome October, my favorite month!  From the colorful fall leaves to drinking hot cider while reading a scary story, there is so much to love about this month.
The past week was a bit slow in the reading department as I kept busy with cleaning and storing a bunch of stuff to make room for Halloween decor.  However, I did get to finish two I picked for Halloween, with mixed results, lol!!
The Week in Books—
Wolf Land by Jonathan Janz — 4 out of 5 stars!
My Goodreads review—
Fair warning—this book is not for the squeamish. There are scenes that make Rob Zombie movies look like Sesame Street. More than once I found myself praying for some sort of brain scrubber to erase the imagery that will probably haunt me for some time.
And I liked it!!
Aside from the blood and gore, there is a good storyline and characters I actually cared about. There are no big surprises or life-affirming revelations; what you do get is a fast-paced, entertaining-in-a -sick-way read that is perfect for the Halloween season.
This was my first book by Jonathan Janz (no baby steps for me, haha!) and definitely won't be the last.
Treasure Island by Robert Louis Stevenson — 3.5 out of 5 stars
I first read this when I was 11 or 12 and I don't remember it impressing me much.  One of my Goodreads groups chose this for their September read and I'm glad I dug out my old copy and reread this classic.  I definitely appreciated it more as an adult than I did at a young age.  Granted, not my favorite classic of all time, but an entertaining read.
Gretchen by Shannon Kirk — 1 out of 5 stars
And the award for my first one star review of 2019 goes to……..
Holy crap, this book was terrible.  Now, I can put up with crappy dialogue.  I can deal with anti-climatic plot twists.  I will even tolerate a normal mom who turns into a female Rambo, complete with full-on Survivor skills and encyclopedic knowledge of birds.  But dear God, not all in the same book!  Plus the added bonus of one of the most asinine endings I've ever read makes Gretchen the winner of my first one star rating of the year.  Um, congrats??
---
And on we go into another week.  Added bonus will be picking up a copy of Rosemary's Baby I have on hold at the library.  I don't know why I've never read this horror classic and I'm looking forward to it.
Do you have a favorite scary story?  Do you prefer full-on horror or twisted psychological thrillers?  Let me know your favs!
And as always, until next time, Happy Reading!